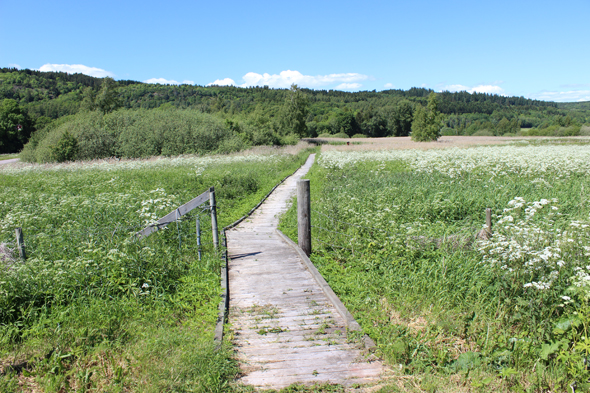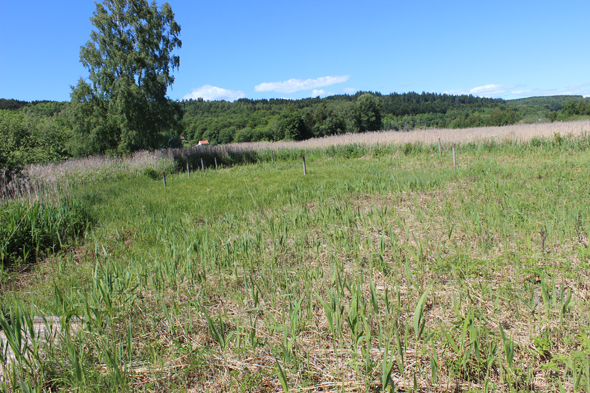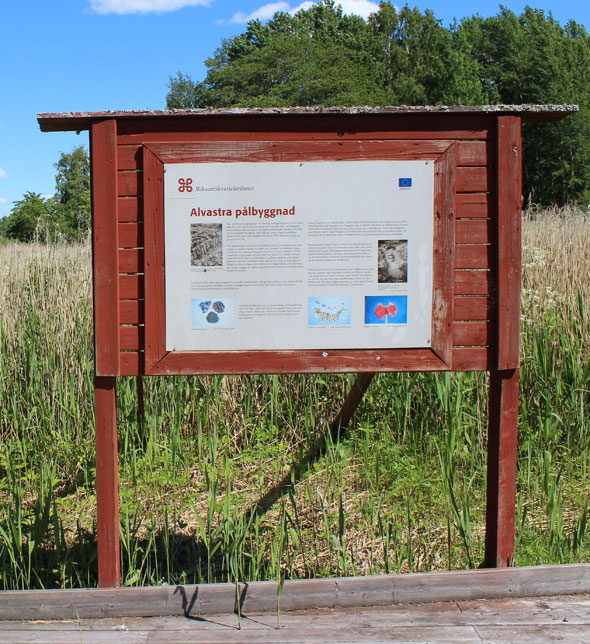 Above three Pictures: Nathalie Dimc, SHMM
We have not written very much about the site of the pile dwelling yet. Now it is time to do so. The pictures above show the site in June of this year when the project made its first visit there. It is still waterlogged but it is in the process of being invaded by vegetation, bushes and trees. The interpretation of the site for the general public consists of an information panel, a reconstruction of the prehistoric  causeway and reconstruction of the  wooden piles erected in the first year in the life of the pile dwelling  (the poles with tops painted red in the picture above). The piles have been set out in the position of piles recovered during the excavation but they do not reconstruct the appearance of the piles when they were discovered by archaeologists or when they were in use during the Middle Neolithic. The causeway follows approximately the course of the prehistoric walkway. The gap between the information on the panel and the experience today of the site itself is great.  What is more,  the understanding of the pile dwelling is not facilitated by the exuberant vegetation that is taking over the site.
A problem for us in the project is the fact that both excavations have used a floating coordinate system. Mats Malmer's excavations left a number of iron pipes representing fixed national coordinates. Recently Magnus Stibéus and Fredrik Molin of the Archaeologists made an attempt to find these pipes with the help of a metal detector. Despite the fact that the position of the pipes was documented on a plan in the Alvastra archives, it was not possible to find these fixed coordinates. They have seemingly disappeared in the 45 years that have elapsed since the most recent excavations were completed. We now hope to be able to link the coordinate system used in the excavation to the national coordinate system using the position of the reconstructed piles.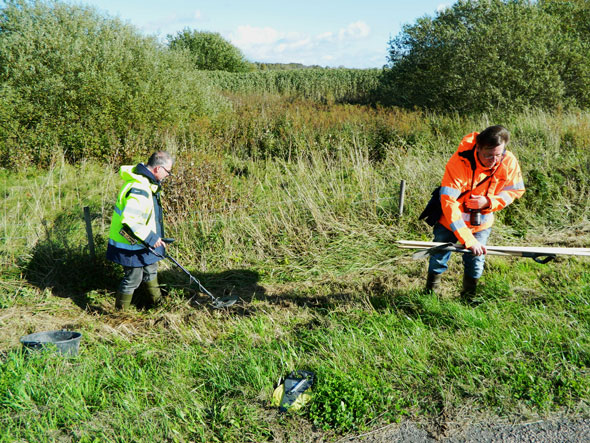 Photo: Hans Browall, SHMM. Magnus Stibéus and Fredrik Molin of the Archaeologists, SHMM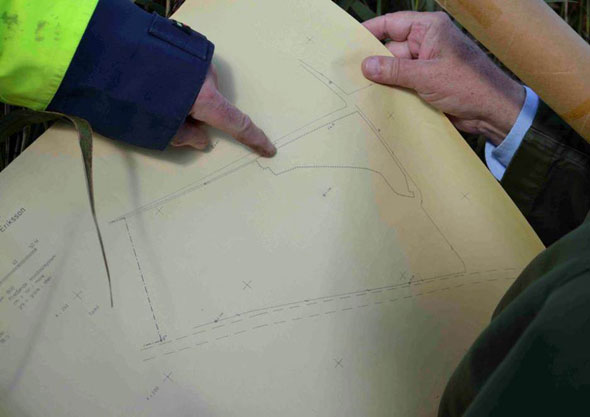 Photo: Fredrik Molin,  the Archaeologists, SHMM. Plan showing the fixed coordinates used in the excavations 1976-80.